Katja Esser and Ricardo Frota bring their unique inspirational skills together to create a participatory performance piece that brings art, nature and spirit together.



Performance length is 45 minutes. We are available for single and double programs.

We are also available as rovers or greeters at your event.

to contact us, call +1 (617) 365-4024 or +1 (978) 353-9185

This program can be linked to school curricula of music, art, theater and the sciences of biology and ecology.

Welcome to the magical forest, a world of color, sound, form and shapes. You will be transported into the imaginative state of mind by experiencing sound colors of insects, rattles, leaves, rain, birds, earth, fruit and bark. Listen carefully. Do you hear the rhythm of the woodpecker, the gnawing of bugs, the moaning of trees? There is a constant sound of life expressing itself in the woods. The forest is an amazing place full of activity and excitement. It has its stories of interconnectedness, survival, and the eternal cycles of life and death. There is magic, mystery and power. The focus is on the tree, which appears to be self-sufficient, but upon looking closer, we see that it depends on a myriad of beings that help to make sure that the nutrients get to the tree. There are many fascinating relationships in the hidden world of trees and earth that reveal the amazing intricate designs of nature.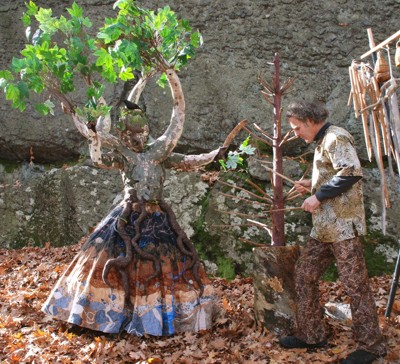 Katja Esser and Ricardo Frota, with their unique inspirational skills, bring a deeper appreciation to nature. Through the use of sound, movement, poetry, costume and mask, they create powerful visual and sound imageries. The audience is transported into another realm. Katja works with images that imitate and transform nature. Through her mask and costume, she gives shape to the spirit of the tree, and she becomes the tree. The poetry provides clues about the life of a tree. Ricardo works with the actual pieces of trees as well as natural and recycled objects. He lets their spirit speak by giving them voice. The audience is invited to contribute in imaginative ways to the complex sounds and life of the forest.
Let yourself to be taken on this journey and to be awed by the wonders and wisdom of our planet.
All photographs are taken by Delwood Richardson except the three images taken in the late summer;
those were taken by Beth Bahia Cohen.